Food in Chiang Mai
Chiang Mai can offer one of the best street food in the world. Yes, you will find some trendy restaurants and whole bunch of coffee shops mostly because of many expats living in the area, but true locals will most certainly eat out on the street. Ching Mai food scene definitely remains true to its flavorful Thai food roots. Flavors are mostly intense and deep thanks to the use of chilis, turmeric, limes, lemongrass and coconut.
Chiang Mai offers endless cheap and good food at so many different locations like markets, shopping malls, shacks and small restaurants. Even the best places to dine in are relatively affordable by foreign standards. However, this is not the city for fancy dining, it is more relaxed and laid-back experience. So, while in Chiang Mai try not to find fancy dining like in Japan, Italy or France, but rather relax, enjoy and spend your time eating some of the best street food in the world.
By votes of many westerners the following dishes have been characterized as the best food to eat in Chiang Mai.
Khao Soi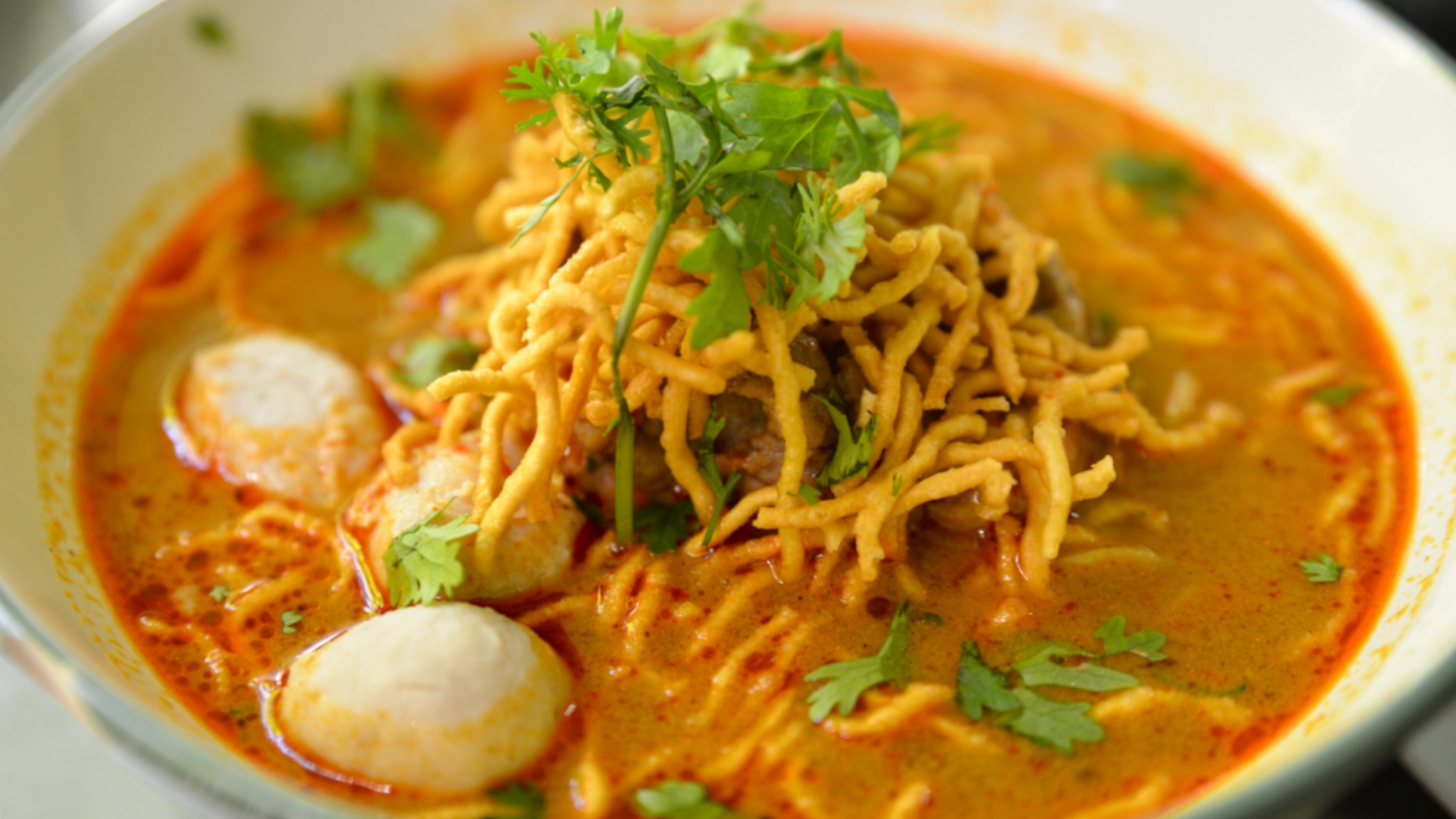 This is definitely a must eat, if you have the chance to eat only one meal in Chiang Mai then you should eat Khao Soi. If you have 2 meals to eat, then you should eat Khao Soi again.
It is a soup with yellow curry and coconut milk loaded with boiled noodles and then topped with some fried noodles. This dish is traditionally prepared with chicken or beef due to Muslim eating habits. Some restaurants offer their own versions with addition of seafood and/or pork. It is hard to find this dish exactly the same in 2 restaurants, instead each restaurant has its unique version based on the cook's experience and preferences. Famous restaurants for this food are:
Khao Soi Nimman
Khao Soi Lam Duan
Khao Soi Khun Yai
We recommend you try them all.
Khao Kha Moo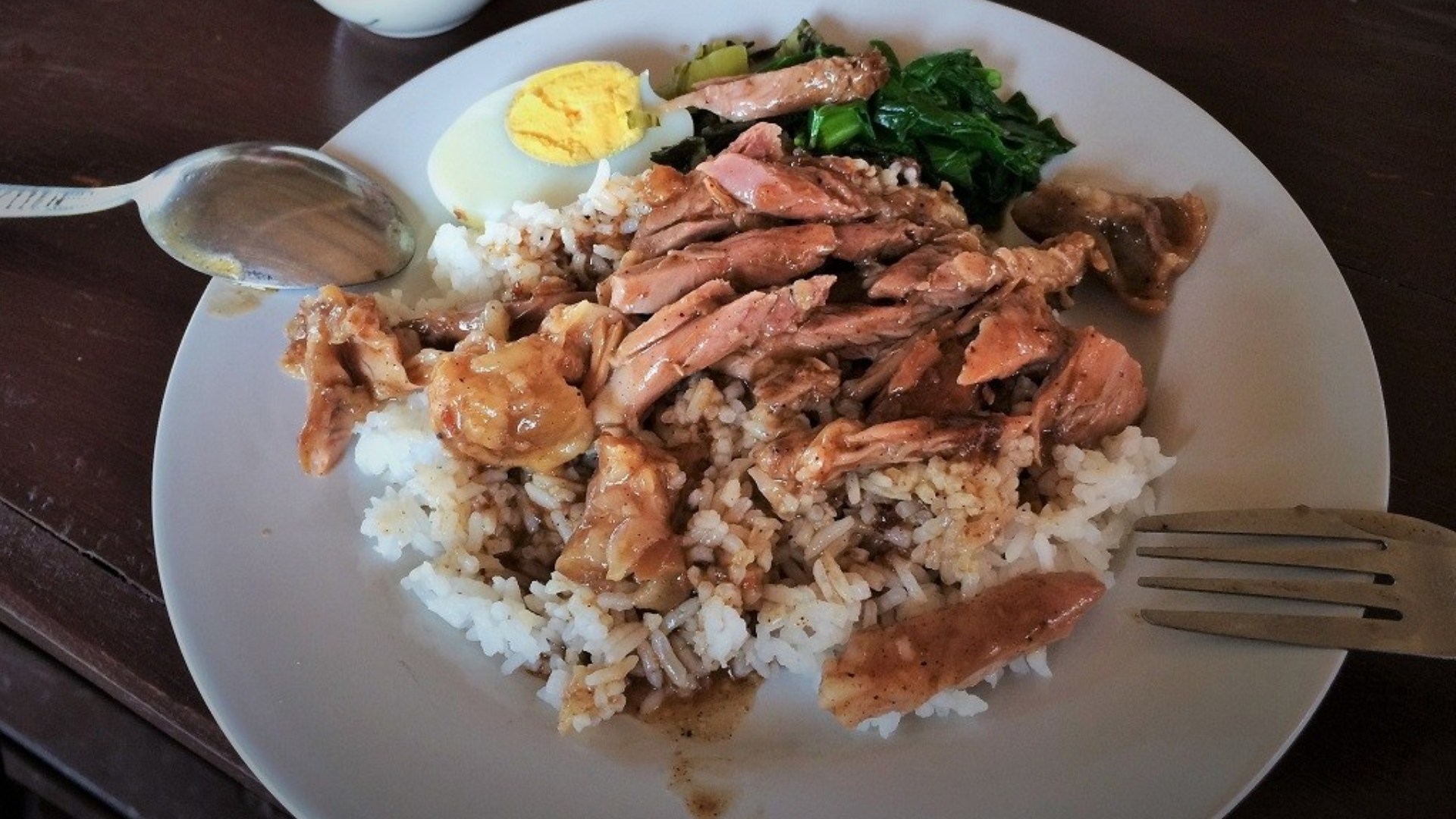 This is very popular dish in Chiang Mai and locals say nobody does it better than the famous cowboy had lady. She is located at the Chang Phuak night market. This is a plate of succulent stewed pork leg served over rice with an egg and sides like pickled mustard greens and garlic chili sauce. Crowds line up each night for the dish adored by locals and tourists as well.
Noodles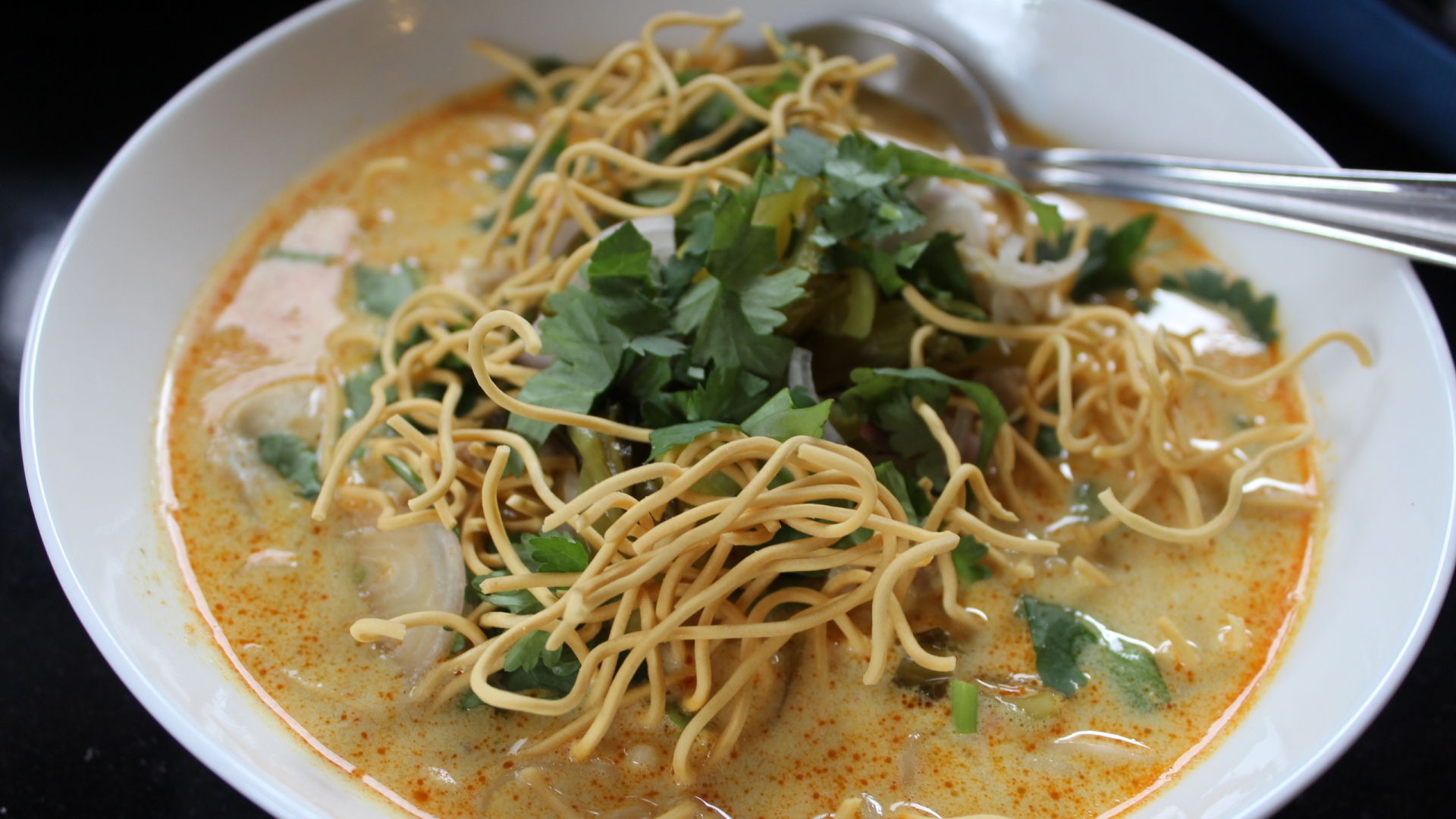 Rice noodles are signature dish of local Northern cuisine and they are served with all kinds of herbs, vegetables and proteins, everybody will find something they like.
The most famous and loved among noodles dishes is most certainly Pad Thai. This is originally Bangkok dish, but it is extremely popular in Thailand's second biggest city. This dish is basically stir-fried noodles with peanuts and shrimps. However, you are welcome to try more varieties of noodles suitable to foreigners like Pat Sii-Yew or Pat Kii Mao (veggie noodle with a spicier taste).
Roast Chicken
In most of culinary cultures chicken is a one-note dish. But, this is not the case in Chiang Mai where each restaurant put different flavor onto chicken, so the taste will differ from restaurant to restaurant. The technique of making a roast chicken also differentiate and it mainly depends on the style of a chef. Many westerners like the taste of Thai roast chicken at Cherng Doi Roast Chicken, Kiet Ocha and SP Chicken.
Street Food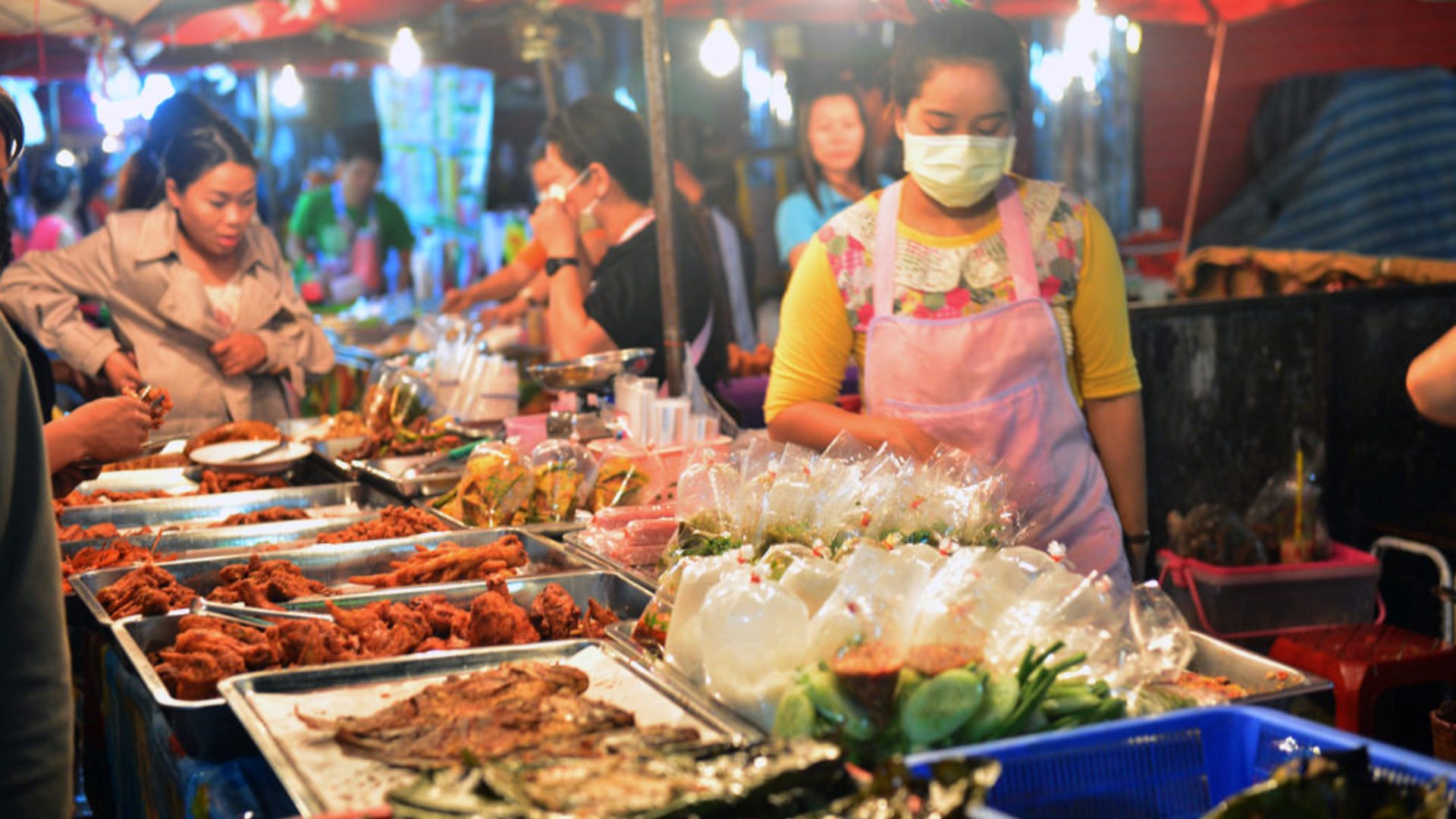 Rest assured that Chiang Mai will never leave you bored with the city's variety of great food, restaurants and eateries. You will find easily accessible street food scattered around the city and the best way is to start exploring varieties by yourself. If you really want to go somewhere specific regardless of eating around the corner we recommend you to try Arroy Dee for Pad Thai or other delicious Thai foods. Arroy Dee translated to delicious and yummy, which is really true.
Night Market Food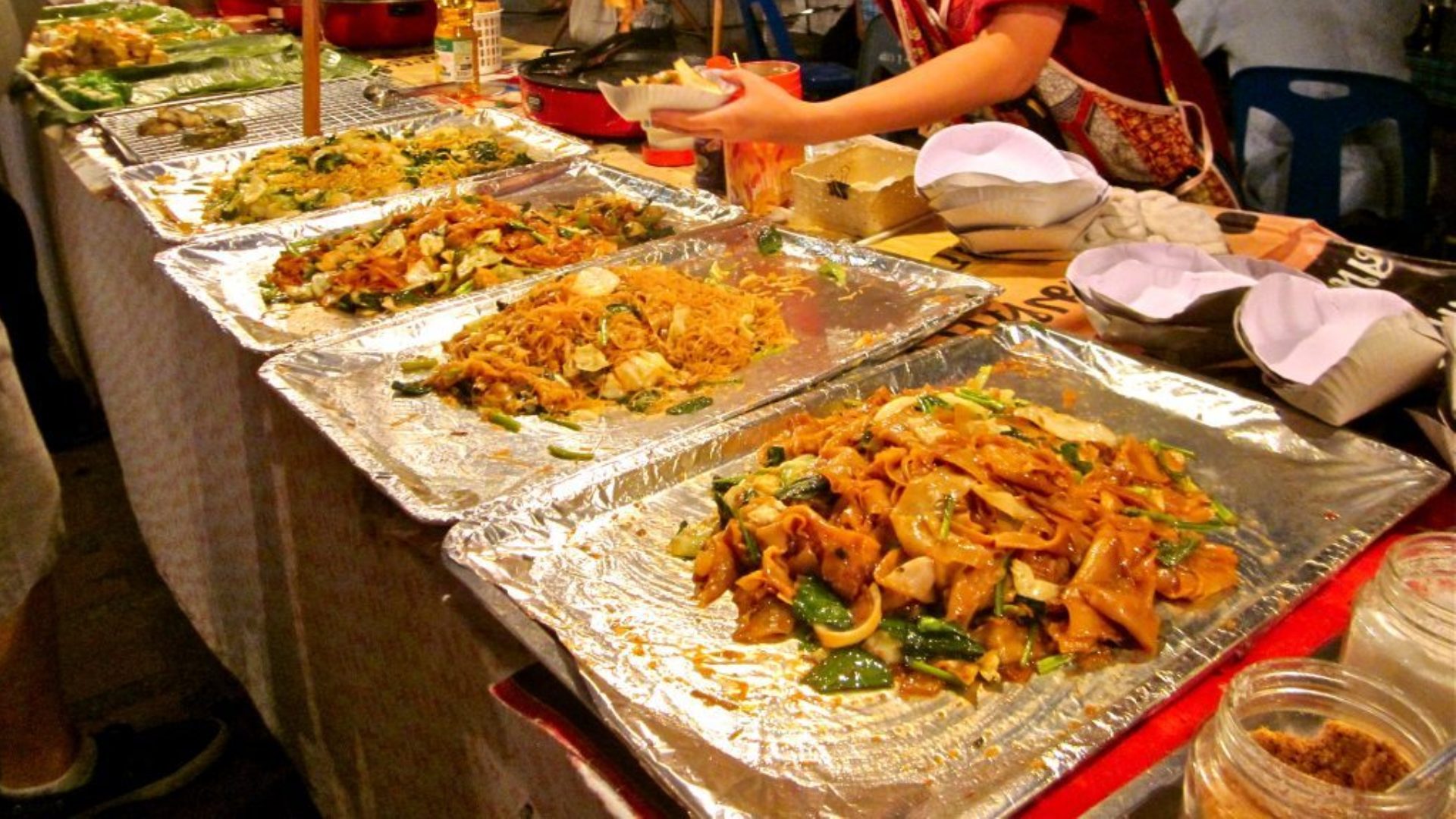 Night markets are very popular in Chiang Mai and you will find many of them throughout the city. Any market you visit will offer you array of foods, so feel free to go out there and explore by yourself. Generally street foods in Northern Thailand are safe to eat, because everything is made fresh, with majority of foods made in front of you.
Meet on a Stick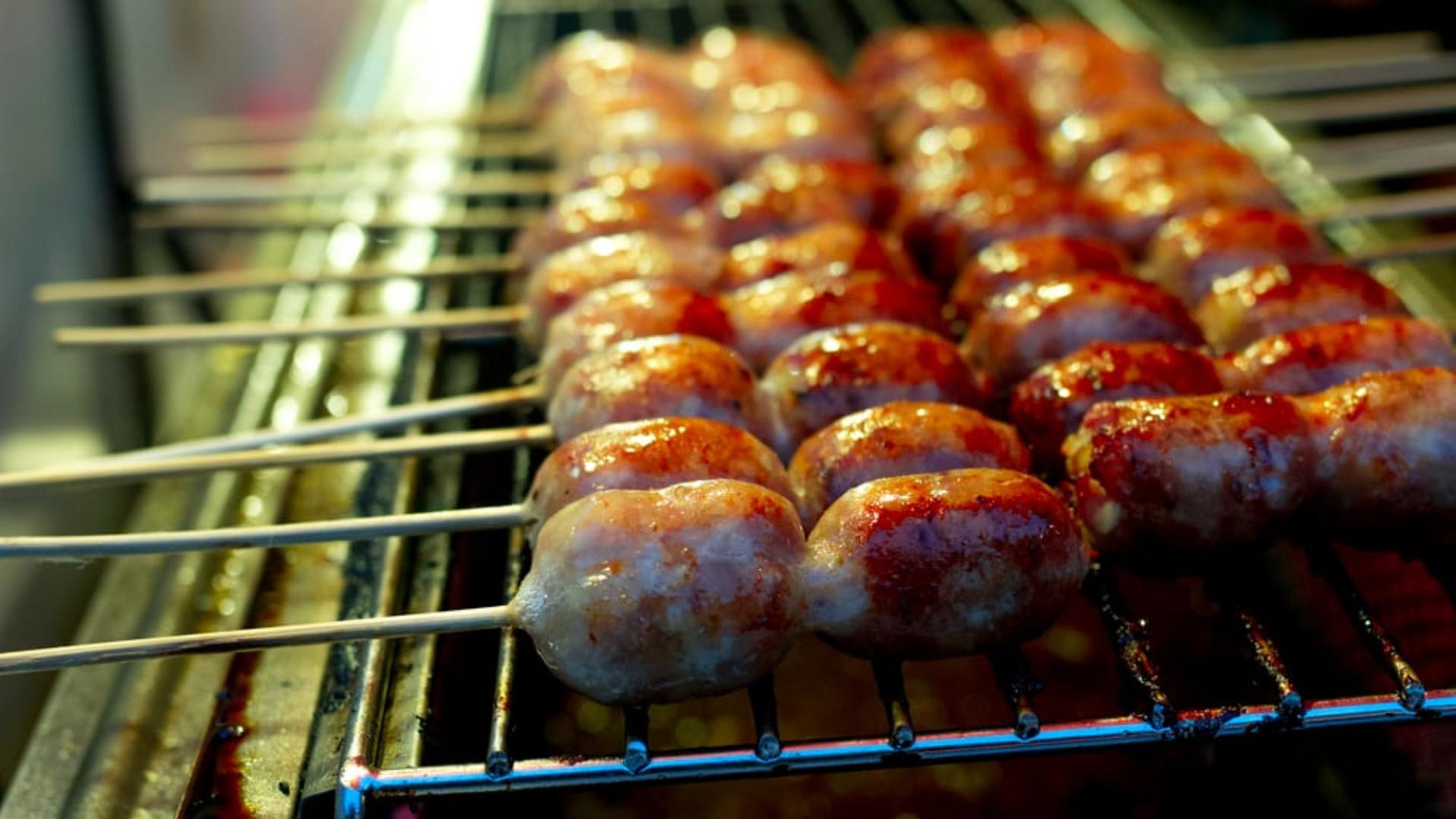 Street vendors in Chiang Mai usually grill sausage and make it sour, spicy and as you would expect, full of flavor. Having meet on a stick while walking around the night market is a must. OK... If you are vegetarian you can pass this experience to someone else.
Khanom Krok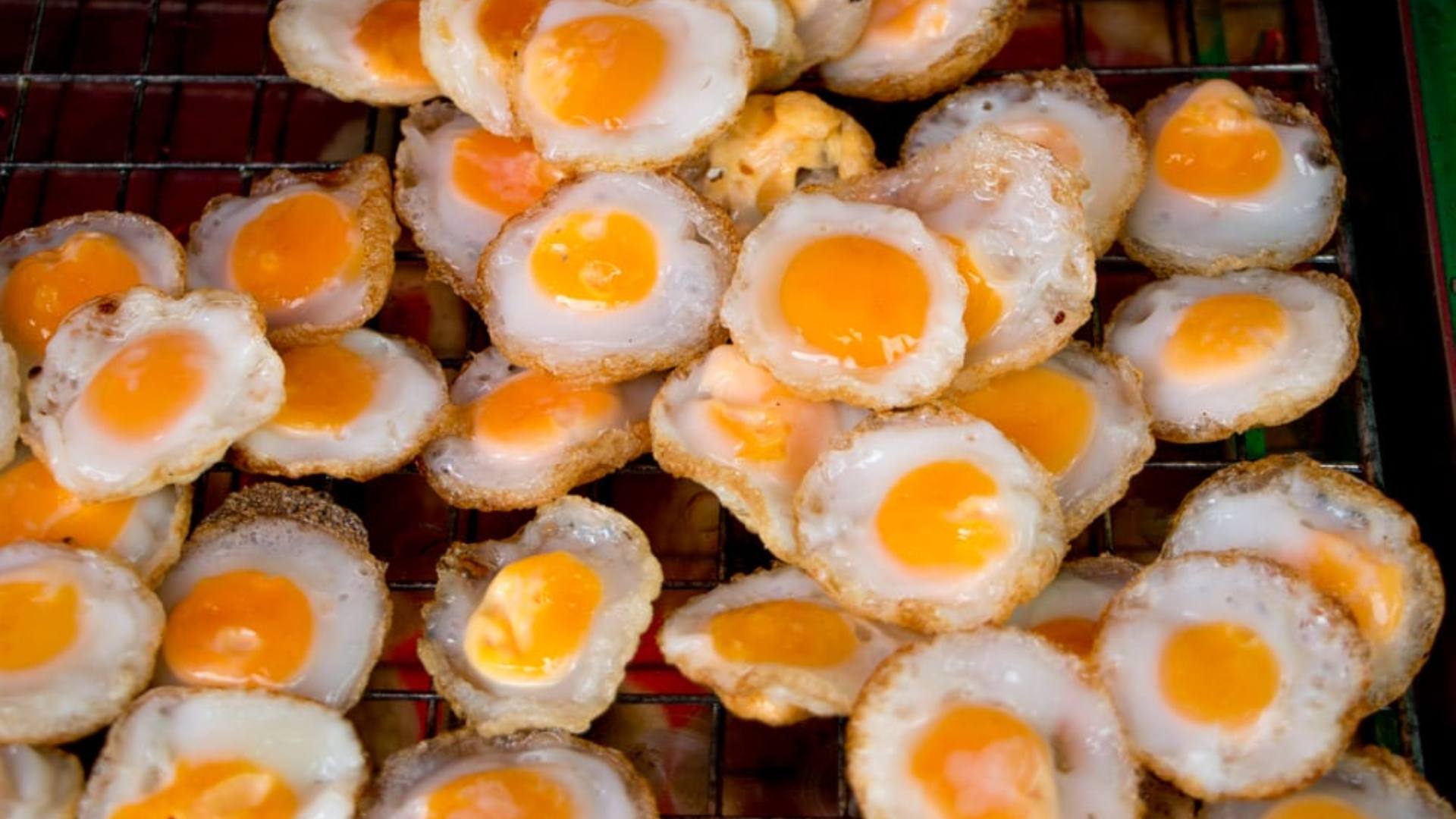 These delicious coconut rice pancakes are something you should definitely try eating as a dessert. There are different versions you can find on the street, but one of the most popular comes mixed with a sweet corn. Vegetarian-friendly dish.
Café Food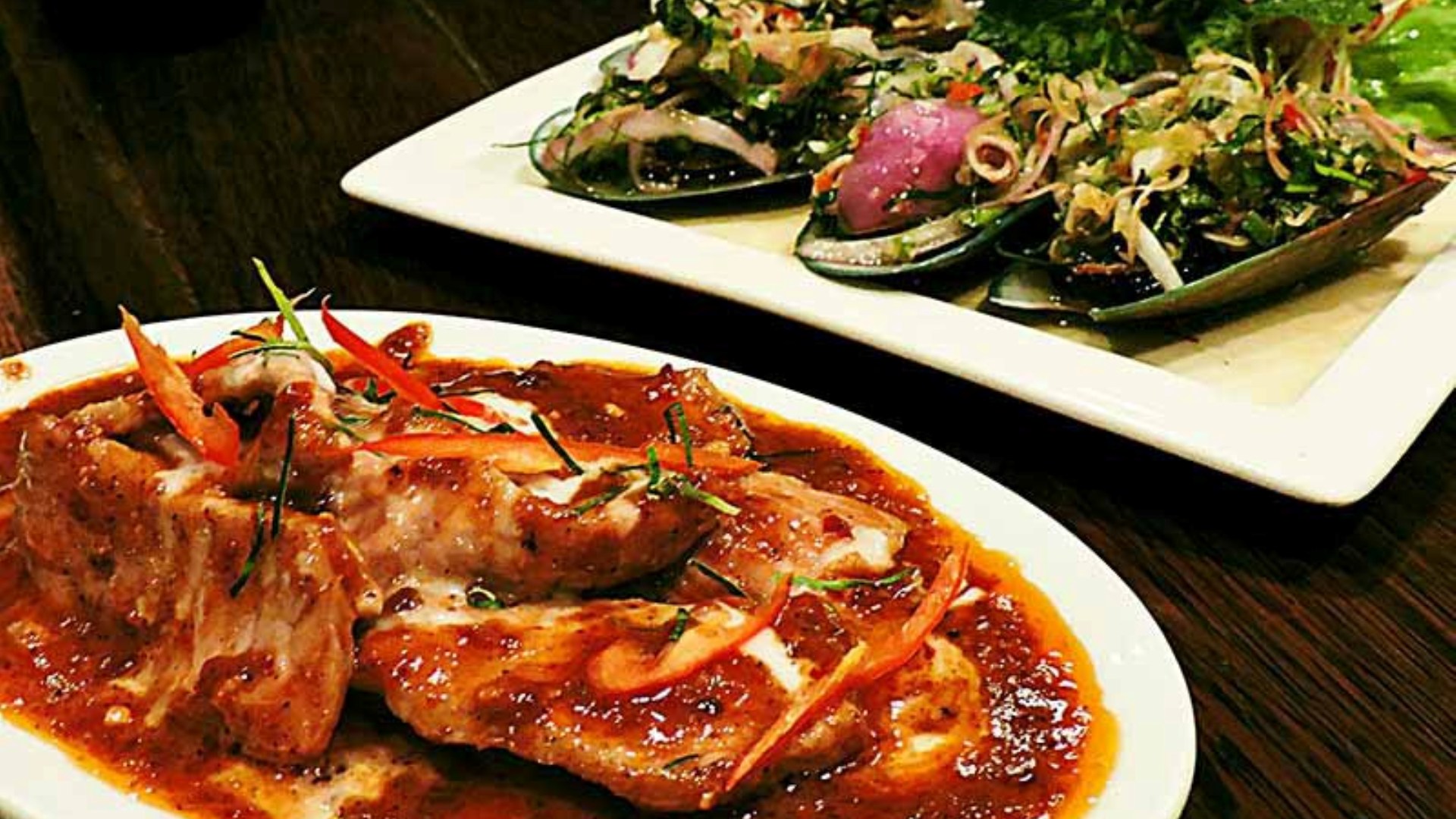 You will find many cafés scattered around the city, especially around the areas where foreigners usually stay. They usually like to serve combination of Thai and western food. So, if you crave for a brunch kind of food from back home you should have no problems at finding it at one of many cafés. Mostly the best cafés are located in Nimman road and we can point out Larder Café & Bar and Rustic & Blue as one of the best places. For a great burger you may check out Beast Burger and if pizza is your thing go stop by Why Not?
Drinks
Throughout Chiang Mai you will find all kinds of drinks for literally everyone's taste. There are a huge number of bubble tea brands everywhere, on the street, shopping malls, small shops, etc. If you love bubble tea you will be more than happy with varieties and prices. One of the best is Tea Addict with great taste and smell.
If you are more nature type, make sure you do not miss out drinking fresh coconut. It's extremely healthy, fresh and 100% organic, great taste and refreshing, usually served cold.
Fruit juices can also be found everywhere and usually made only with 100% real fruit.
Smoothies – made out of real fruits just in front of you. The main difference comparing to fruit juices is that the vendors add a lot of ice and sugar. Be aware that Thai people put too much sugar in their drinks which is not suitable for westerner's taste, so try ordering less sweet and you should be fine.
Beer and Wine – almost every restaurant serve beer, mostly domestic (Singha beer is considered the best by Thai people), but you can find some foreign brands like Heineken as well. Domestic beer price is similar to westerner's standards, but imported beers are rather expensive. Domestic beers have decent taste, but smaller amount of alcohol than some loved craft beers in Europe. There are places that offer a number of local and overseas craft beers as well, but that comes at a price.
Wine is not in the culture of Thai people so it's not that every restaurant is offering a nice selection of wine. The price of wine is relatively expensive comparing to EU or US standard, but there are places like Wine Connection restaurants that offer a huge selection of world wines and type of food with experience you would expect in EU and US.
Soft Drinks – soft drinks are rather cheap anywhere, whether is it a supermarket or a restaurant. Soft drinks made for Thai market are really sweet, the sugar level is few times more than what foreigners are usually used to.
Alcohol and Spirits – in every tourist area you will be sure to find any alcoholic drink you like. Thai restaurants don't serve a huge selection of spirits, but places offering western food usually have spirits as well. Night clubs, which comes at no surprise, offer a huge selection of spirits, beer and wine.
Coffee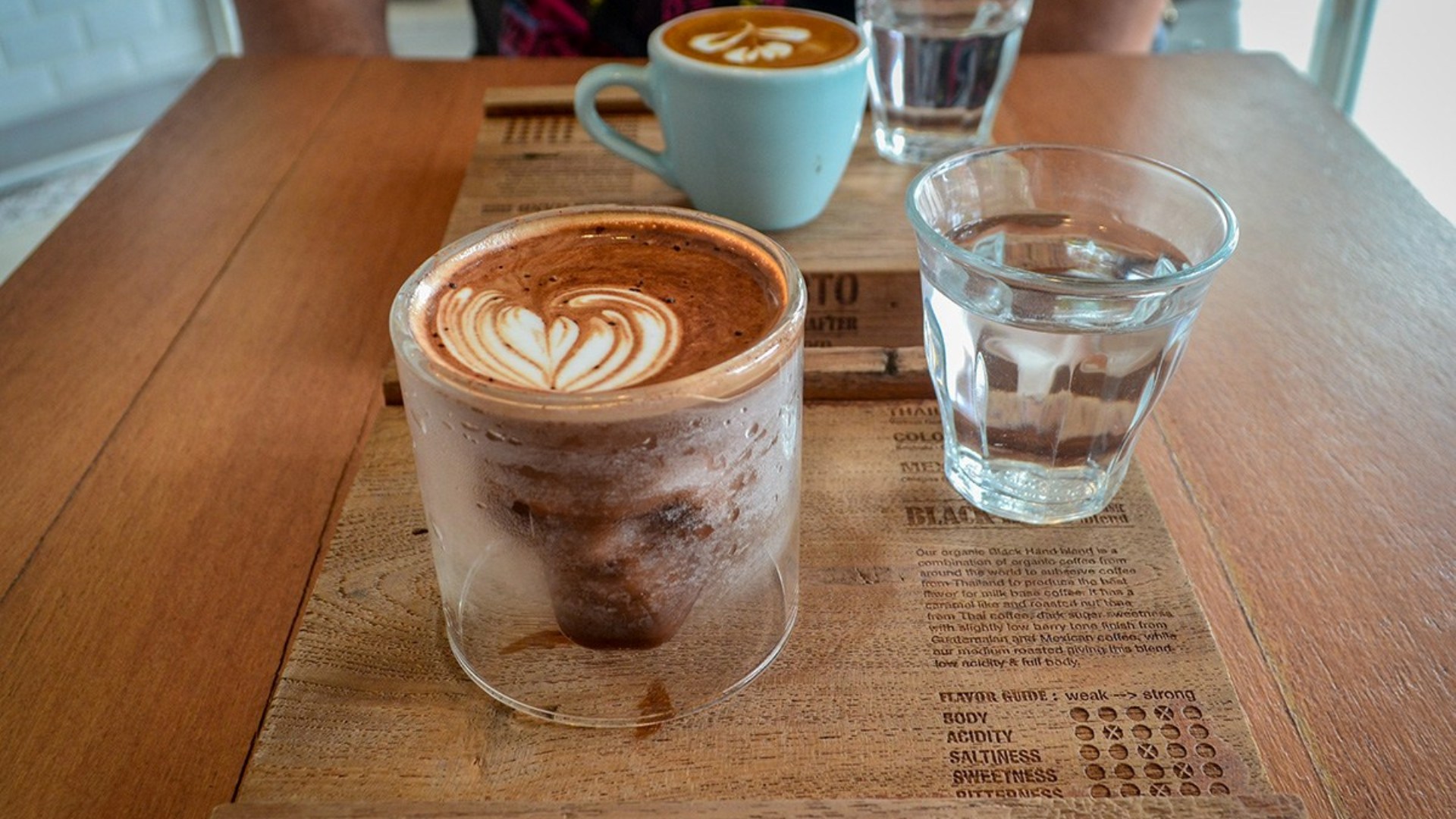 Ahh... That coffee... Always crave for a great cup of morning coffee.
Although there are a great number of coffee shops in Chiang Mai there are not many really great coffee shops. In Thailand you will find a big number of different coffee brands, but if you enjoy Italian type your options will be rather narrow. Thai people usually like a different taste of coffee. If you like cappuccino you will probably find that the staff at coffee shops make a milk way too hot making your cappuccino have not so great taste.
As for definitely the best coffee in Chaing Mai make sure you visit Ristr8to Lab at Nimman Road. They provide great service, great and artistic approach to coffee making with all the small details in a shop looking great.
Other great places to have coffee are Ming Mitr Coffee, Nimmanian Club and Nine One Coffee.