Culture of Chiang Mai
Thailand has long cultural heritage, especially the north. This is evident in the way Chiang Mai people behave, their traditions and annual events calendar. It upholds traditional values and customs like Wai greeting of pressing the palms together and giving a slight bow. The locals speak Northern Thai dialect, known as Lanna.
Festivals are another way that show Northern Thailand culture.
Songkran – performed in mid-April, also known as water festival, features extraordinary celebration of Lanna New Year. Today water throwing battles are take on the old Lanna custom of pouring water on elderly hands.
Loy Kratong – also known as lantern festival is another famous festival enjoyed by many people. This festival takes place at late autumn, in November. The best spot to witness huge spectacle of lightning up khom loy lanterns soaring high into the night sky is city of Chiang Mai. Another custom is to release krathong boats into the Ping River. Chiang Mai is a must-see place during the Lantern festival. There are huge number of people, locals and tourists as well, on the streets, everything is lively, some happenings and gatherings at many spots throughout the city, live music and many other things.
Chinese New Year – is held on Trok Lao Cho Road, Warorot Market, Amphoe Mueang. Visitors will enjoy lion dances, Qi Gong, Tai Chi, as well as Chinese exhibition, music, food fair, and dances.
Flower Festival – is held in February. The festival includes decorated flower garden contests, floral floats parade in the morning and beauty pageants. The parade begins at Chiang Mai Railway Station and passes Nawarat Bridge and ends at Nong Buak Hat Park.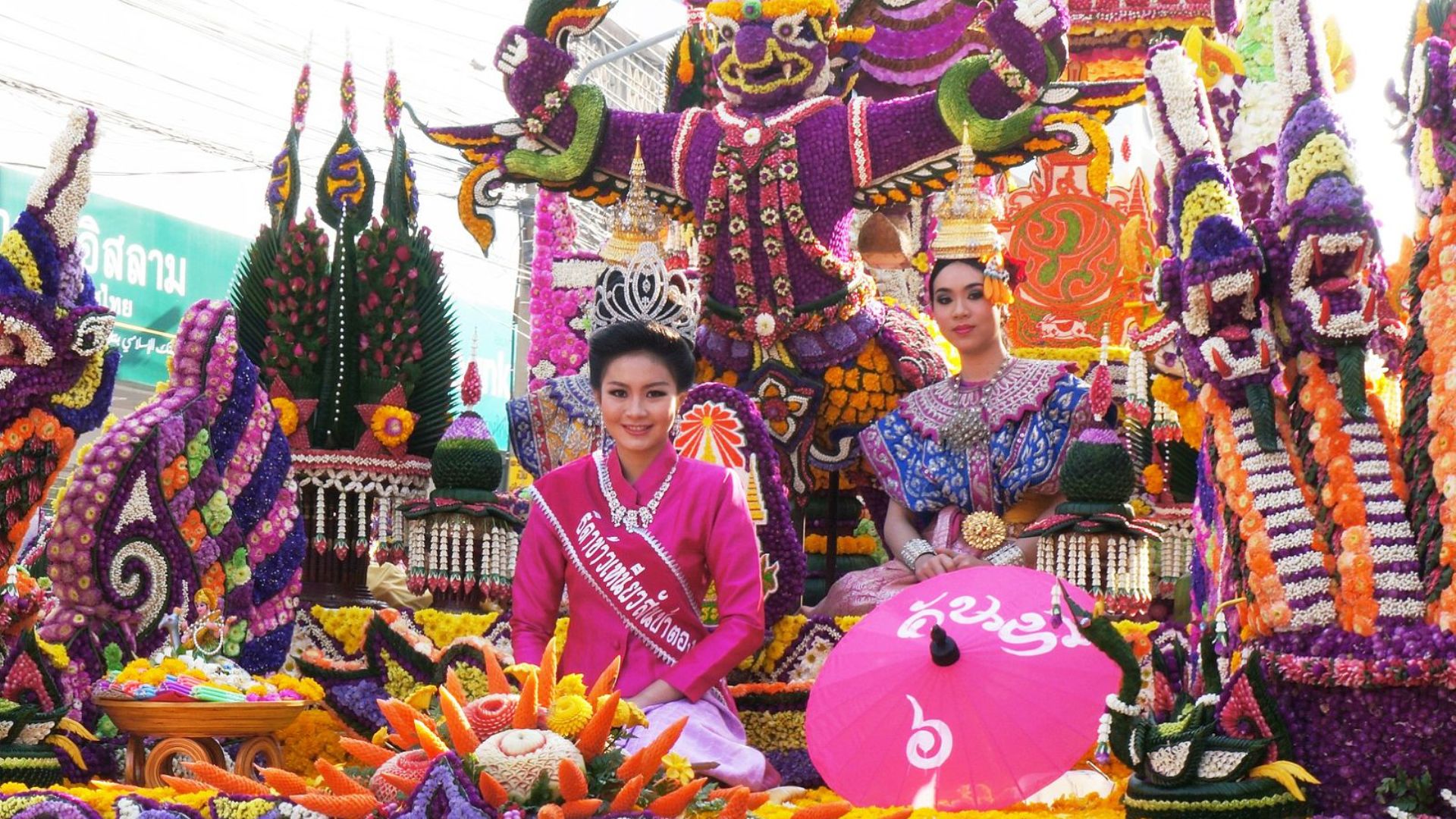 Chaing Mai is well known for its artisans and is the center of quality handicacrfts.You will find huge number of small workshops throughout the city where artists pay homage to skills given from generation to generation by making beautifully carved souvenirs which will be the perfect gift for your loved one.
You don't have to travel far to fins all these remarkable products, enough to go to night market and you fill selection of antiques, embroidery, Thai silk and cotton, basketry, celadon, silverware, furniture, lacquerware and woodcarvings.
Major Chiang Mai products
Umbrellas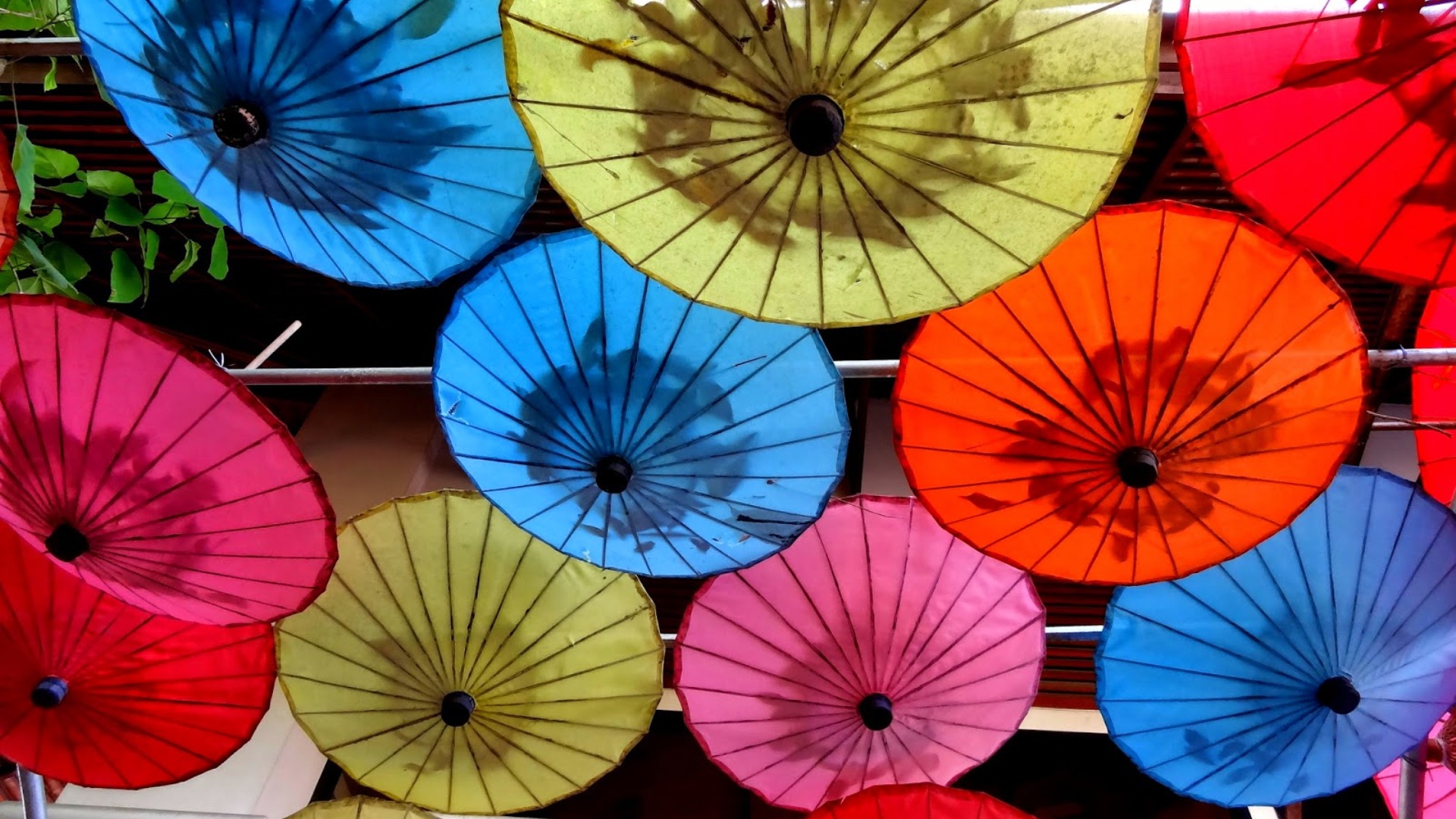 Silverware – the finest Thai silverware is exquisite and made originally in Chiang Mai. Traditional skills in making silverware and at least 92.5% pure silver can be found in bowls, receptacles and decorative items with authentic value. Most of silver shops you will find in Wua Lai Road.
Lacquerware - Striking black and gold designs give lacquerware its visual appeal. This item made of wood, bamboo, metal, paper and baked clay, in the form of receptacles, ornaments and various souvenirs.
Furniture and Woodcarving - Chiang Mai's Ban Thawai village in Hang Dong district, is a major centre of furniture making. Major woods and materials include teak, rosewood and rattan. Items may be unadorned or, especially with teak and rosewood, carved in traditional or modern designs. Woodcarving is a traditional northern Thai art featured in numerous temples. In recent years, wood¬carving has increasingly embellished furniture, gracing screens, chairs, tables, beds, figurines, carved elephant indeed anything bearing a wooden surface large enough to be carved.
Hilltribe products - These include silver ornaments, such as bracelets, necklace, pendants and pipes of intricate design, and embroidered items including tunics, jackets, bags, purses, caps and dress lengths.
You can also find shopping tours like San Kamphaeng, Baan Tawai Village, Wualai Road and weekend markets.
Museums:
Chiang Mai City Arts and Cultural Center
Chiang Mai National Museum
Tribal Museum
Bank of Thailand Museum
Temples:
Wat Doi Suthep

This is the most famous ever crowded temple in Chiang Mai. The journey to temple is nice experience itself, driving up the curvy mountain road no matter if you are doing it on a scooter or as a part of a private tour. People usually say if haven't seen the view of Chiang Mai from Doi Suthep you haven't been to Chiang Mai. Doi Suthep is the home of the most deeply loved symbols in the Lanna Kingdom. In 1981 Doi Suthep, Doi Pui and Doi Buakha along with 62 square miles of forest became national park. A year later to the area of this national park another 100 square miles were added.

Wat Chedi Luang

Located in the middle of the Old City within the walking distance of most popular hotels and markets. "Luang" can be translated to "very big" and the enormous building certainly lives up to this name. Opening hours: 06am – 5pm

Wat Phra Singh

This is most visually impressive temple in Chiang Mai. The main temple building is the biggest star with its iconic Lanna style roof and extremely decorated façade that shines brightly. It is situated inside of old city wall Opening hours: 06am – 5pm

Wat Suan Dok

This is less visited temple, but worth taking a look because of its huge glowing golden Buddha. It's very easy to find it, located outside of the city walls on the road leading to the University and Nimman area. Opening hours: 06am – 09pm

Wat Sri Suphan

This temple stands out with shiny silver paint that glistens brightly in the sunlight. Temple has neon light displays that transforms into multiple colors providing you with a stunning night view. Opening hours: 06am – 09pm

Wat Chiang Man

Once served as a residence of the city's founder King Mengrai. The temple is beautiful from every angle and it offers the insight into the reach historical and cultural heritage of the Northern Thailand. It also represents a traditional Lanna architecture. Opening hours: 08am – 5pm

Wat Lok Molee

Yet another beautiful temple in Chiang Mai. It can be recognized by its three-tiered wooden roof. It is easily accessible on a prime location close to Chang Puak Gate on the north side of the Old City. The temple dates back to 14th century and it has been very well restored. Regardless of central location it is hidden out of the way of tourists. Visiting this temple, you will be able to see interesting statues and elephants as well as inevitable Buddha images. Definitely nice place to take photos especially since not many people visiting this temple and sometimes it just happens that you will yourself alone walking through the large halls.